Expires August 26, 2123 06:00 PST
Buy now and get 50% off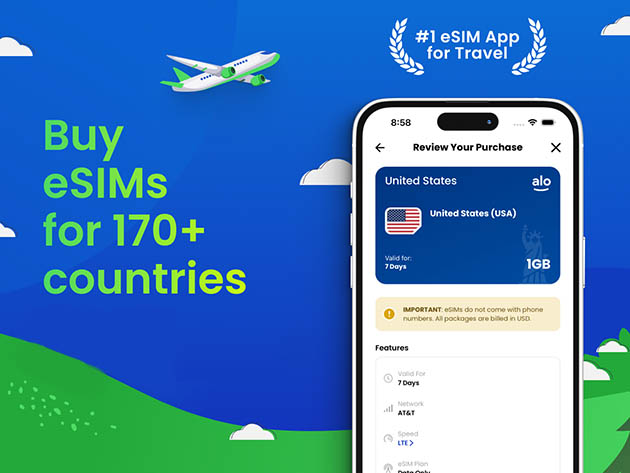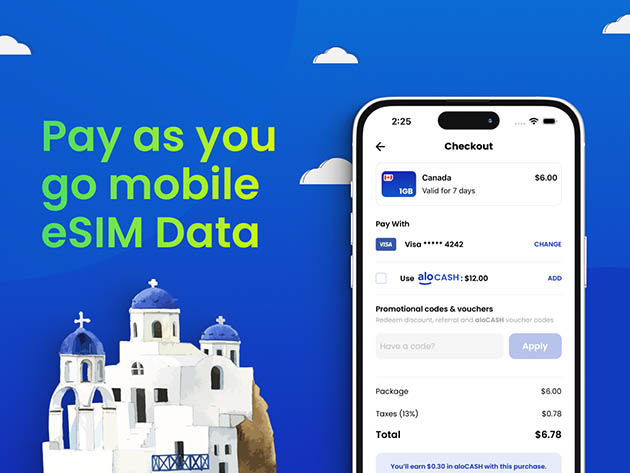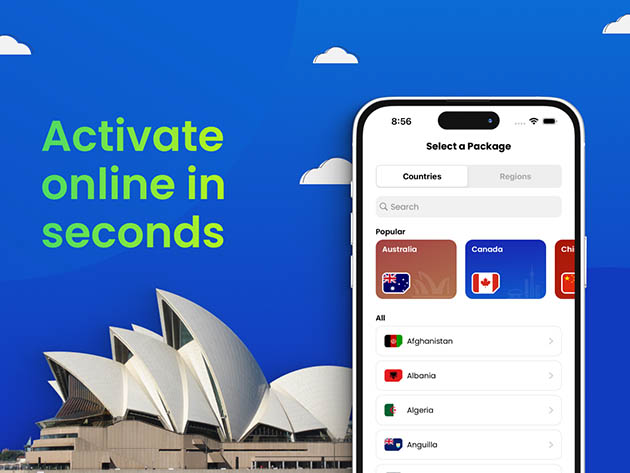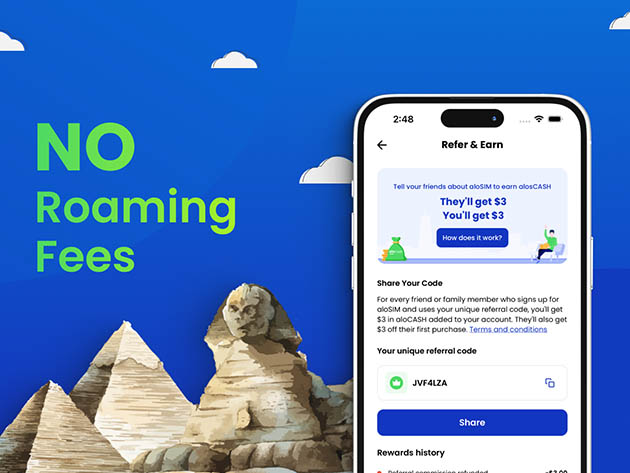 KEY FEATURES
Stay connected affordably in 170+ countries/regions with your own lifetime eSIM!
An eSIM is a digital SIM card. It's basically just mobile data. Once it's activated on your device, it can connect you to data networks in other countries – giving you an internet connection with NO roaming charges. With aloSIM, you can load prepaid eSIM data packages onto your phone, tablet, or computer.
Your lifetime eSIM never expires, so it's yours forever and there are never any monthly charges.
You'll get $50 in eSIM data credit, which is almost always enough to cover all your data roaming needs for a full year. But if you run out of data, you can always top up your lifetime eSIM and stay connected internationally.
Pay $25 for a lifetime eSIM with $50 in travel data credit
Use your eSIM to join data networks in 170+ countries
Install your lifetime eSIM on a compatible device to roam on local data networks
Your lifetime eSIM never expires, and can be topped up with more data anytime
Many data packages cost as little as $4.50 and last 7 days. Depending on the package you choose, the length of time varies.
NOTES
A day or so before you leave on a trip, select one of aloSIM's data packages and install the eSIM (digital SIM card) on any compatible device. Then when you arrive at your destination, activate your package to start using the data. aloSIM has data packages priced as low as $4.50 for a week of data. The eSIM itself never expires, so you can add more data packages anytime, whether it's on this trip or for a future trip.
The data DOES expire, and you WILL NOT have any leftover data for your next trip unless it takes place within the validity period. While the eSIM never expires, the actual data package is only valid for the length of time stated at purchase (i.e. seven days after activation, 30 days after activation, etc.) So if you buy a seven-day package and only use a tiny bit, that package is still going to expire after seven days.
Reviews
4.5/5 stars on App Store:


★ ★ ★ ★

★

4.2/5 stars on Google Play Store


★ ★ ★ ★

★

SaltWire: "Travel without roaming charges with new aloSIM app; Canadian eSIM app changing the way people use their phones on vacation."
What Customers Say
"Glad to find this app. Much cheaper travel data than going through my carrier. Easy to use and got what I needed at a good price."
"I don't have a phone plan, so I like being able to get seven-day data packages when I'm going to be somewhere without Wi-Fi. Works great!"
"If you have a tween you'd like to reach even when they don't have Wi-Fi, this is a really cheap, effective way to stay in touch with them on a hand-me-down phone or tablet."
PRODUCT SPECS
System Requirements
Make sure your device supports eSIM by checking it prior to purchasing this offer. Check here
Important Details
Length of access: lifetime
Instant digital redemption
Purchased coupon must be redeemed and used within 12 months
This deal is not stackable (one offer per aloSIM account)
You can purchase up to two, but your additional deal must be gifted to another person. Again, this deal is not stackable.
A $4.50 data package will last 7 days
The data DOES expire, and you WILL NOT have any leftover data for your next trip unless it takes place within the validity period. While the eSIM never expires, the actual data package is only valid for the length of time stated at purchase (i.e. seven days after activation, 30 days after activation, etc.) So if you buy a seven-day package and only use a tiny bit, that package is still going to expire after seven days.
Access options: desktop or mobile (check compatibility)
Max number of device(s): 1
Updates included
Have questions on how digital purchases work? Learn more here