Expires July 05, 2122 23:59 PST
Buy now and get 33% off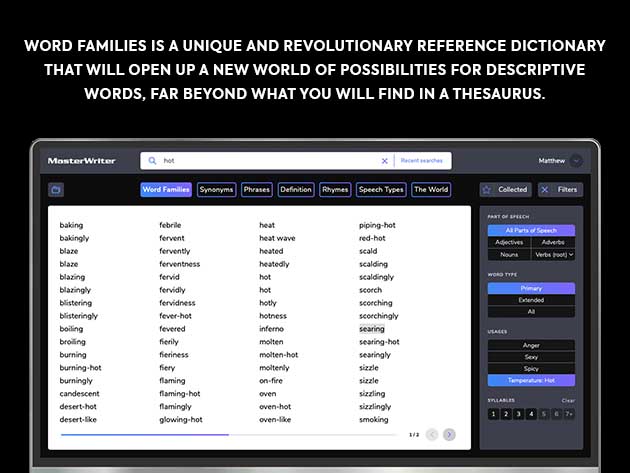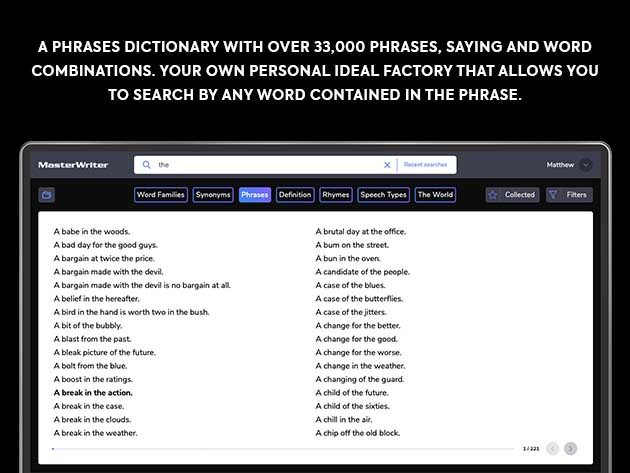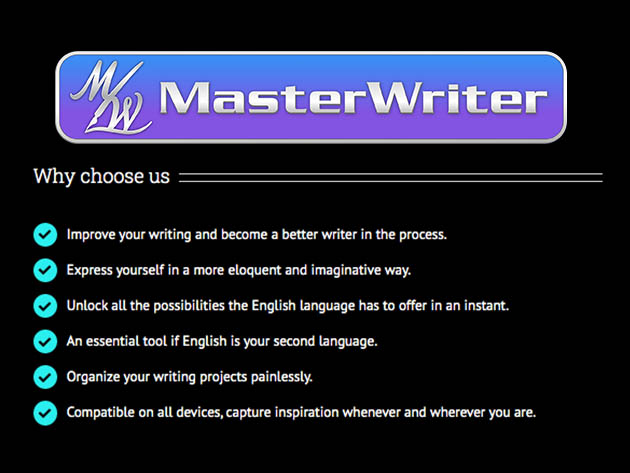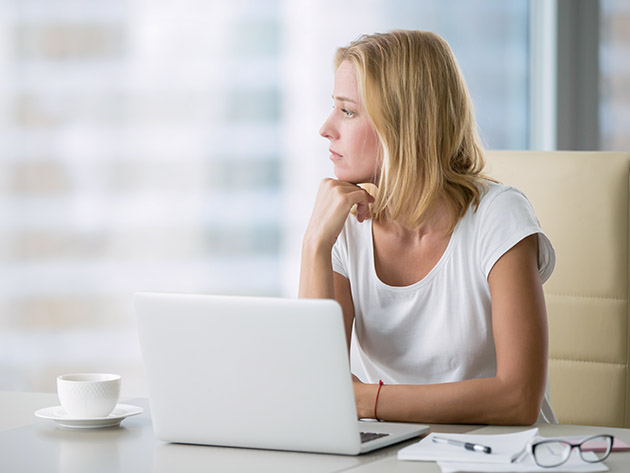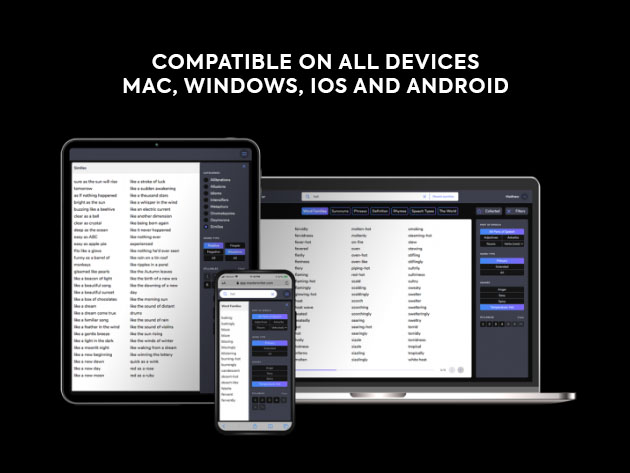 KEY FEATURES
MasterWriter is a powerful collection of writing tools, reference and organization assembled in one easy-to-use program. Why struggle to find the right word when you can have all the possibilities in an instant?
Their Word Families dictionary is like having a thesaurus on steroids. Looking for a more creative way to describe a hot sun? A Thesaurus will give you burning, blazing, scorching, torrid, etc. Word Families doesn't stop there, it will give you an angry, punishing, glaring, merciless, fierce, or unforgiving sun. You can replace beautiful with words like breathtaking, flawless, unforgettable, and dazzling.
Word Families is just one of the many useful tools you will find in MasterWriter. Also included are Phrases, Synonyms, Rhymes, Definitions, Metaphors, Similes, Onomatopoeia, Idioms, Oxymorons, Allusions, Alliterations, a searchable Bible, Pop Culture, Intensifiers (a unique collection of intense descriptive words), and more.
While a computer program cannot compete with the mind and imagination of a writer, the mind cannot compete with the word choices that MasterWriter will give you in an instant. When the two work together, great things happen.
4.4/5 rating on Trustpilot:

★ ★ ★ ★
★
Improve your writing & become a better writer in the process
Express yourself in a more eloquent & imaginative way
Unlock all the possibilities the English language has to offer in an instant
Ann essential tool if English is your second language
Organize your writing projects painlessly
Compatible on all devices, capture inspiration whenever & wherever you are
Features
Word Families: A unique and revolutionary reference dictionary that will open up a new world of possibilities for descriptive words, far beyond what you will find in a thesaurus.
Extended: Replaces the search word in a more creative & imaginative way
Synonyms: The best Thesaurus on the market
Phrases: A phrases dictionary with over 33,000 phrases, saying and word combinations. Your own personal ideal factory that allows you to search by any word contained in the phrase
Speech Types: Gives you all of the different figures of speech plus Intensifiers, a collection of intense descriptive words
Rhymes: A Rhyming dictionary with over 100,000 entries and 36,000 Rhymed Phrases
Filters: Allows you to be specific in your searches
Collecting: Collect multiple entries from every dictionary by simply double-clicking on them. This gives the writer the ability to easily collect a number of possibilities to review and choose from later
James Clemente | Writer & producer of the hit TV series Criminal Minds
"MasterWriter has helped me perfect every script I've written for Criminal Minds. I've used it countless times in the writer's room. Now that I have MasterWriter 3.0, a whole new world has opened up and best of all, I can access it on any device any time!"
Bob Zemeckis | Oscar-winning writer, director, and producer
"MasterWriter is an absolute necessity for today's creative writer."
Manny Coto | Emmy Award winning writer and producer
"When I'm struggling to find the right word, MasterWriter is always the first – and last – place I go"
Allan Folsom | Best-selling author
"Writing is re-writing and re-writing and re-writing. MasterWriter is the perfect tool for an impossible job. A decidedly functional helping hand in the dark."
Andrew Davis | Award-winning writer, director, and producer
"Need a great vocabulary and fresh ideas? MasterWriter is like having a writing partner with an Ivy League education…Check this out!"
PRODUCT SPECS
System Requirements
Compatible on all devices, Mac, Windows, iOS and Android
Important Details
Length of access: 2 years
Redemption deadline: redeem your code within 30 days of purchase
Max number of device(s): Unlimited (you can be logged in only one device at a time)
Updates included
Have questions on how digital purchases work? Learn more here