Expires July 28, 2122 23:59 PST
Buy now and get 85% off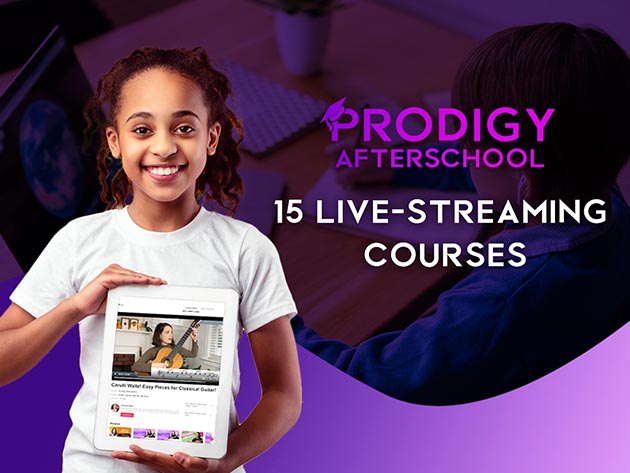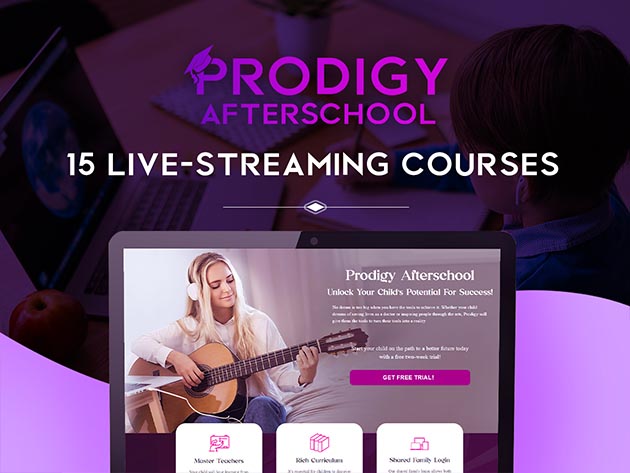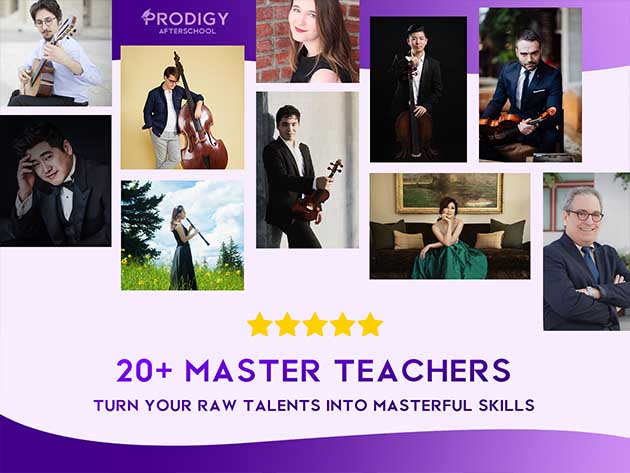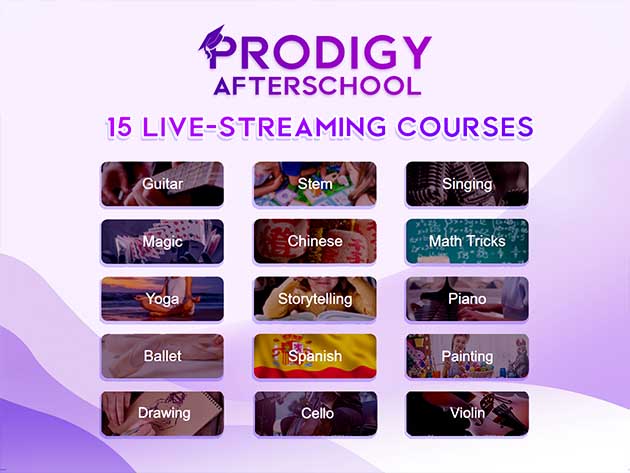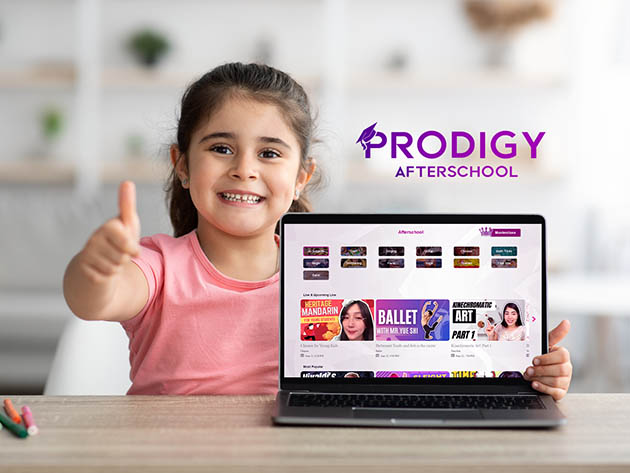 KEY FEATURES
Unlock Your Child's Potential For Success!
No dream is too big when you have the tools to achieve it. Whether your child dreams of saving lives as a doctor or inspiring people through the arts, Prodigy will give them the tools to turn their tools into a reality. Your child will love learning from Prodigy's world-renowned teachers in excellent courses that you won't find anywhere else. It also allows shared family login so both children and parents can enjoy all of the courses in one great package at an amazing price that can't be beat.
Prodigy offers real value that other education programs can't match: 15 afterschool courses live and on-demand are included in all packages. Masterclasses inspire students, help to visualize the future, and are a shortcut on the path to success.
15 available afterschool courses. Math Tricks, Magic, Yoga, Drawing, Painting, Arts & Crafts, Storytelling, Chinese, and more
Master teachers. Learn from world-renowned teachers in excellent courses that you won't find anywhere else
Shared family login. Allows both children and parents to enjoy all of our courses in one great package at an amazing price that can't be beat
Afterschool Package
All live streaming & pre-recorded Afterschool courses
A selection of afterschool courses taught by Master Teachers
What Parents Say
Susan | New Jersey
"This was my daughter's first experience of online classes. She loved it! She was excited about the facts she learned and was able to relate them to her other knowledge. I haven't seen her this excited to learn in a long time!"
Kathryn | San Francisco
"Your live streaming after-school class design is genius! It is a better fit than recorded online courses and any smaller online classes we have ever tried. You have master teachers, great course variety and the cost is very affordable."
Anson | New York
"My daughter learns three courses, and she is thoroughly enjoying the virtual classes you guys are offering. Thank you so much for bringing such a rich variety of great quality courses."
PRODUCT SPECS
Important Details
Length of time users can access this course: lifetime
Access options: desktop only
Redemption deadline: redeem your code within 30 days of purchase
Experience level required: all levels
Have questions on how digital purchases work? Learn more here
Requirements
Any device with basic specifications
THE EXPERT
Instructors
Afterschool teachers come from the Juilliard School, The Chicago Symphony Orchestra, and many other prestigious institutions. Under their expert guidance, you can turn your raw talents into masterful skills…
Manuela Sadovnik received a bachelor's degree in Visual Arts from the Pontificia Universidad Javeriana of Cali, Colombia, specializing in Cultural and Art Management. She won an international exchange program scholarship that allowed her to expand her knowledge abroad in art and art history at Fordham University at Rose Hill, New York.
As an artist, she has stood out for participating in national and international exhibitions such as Printmaking International Collective Exhibition "Migration" from the University of San Francisco and Exhibition "Conexiones JA/BE" at the Cultural Center of Cali, Colombia.
Manuela elevates history education to a whole new level with her vast historical knowledge and captivating personality. She blends artistic ability with awareness for art history and a pleasant teaching style. She teaches history in such a way that transforms any dull subject into a thrilling tale of grandeur that youngsters adore.
Amanda Kaya has been teaching children music since she began attending college, working privately and for the Northside Music School in San Antonio, Texas, and the Orpheus Academy in Austin. After graduating Magna cum laude from the University of Texas at Austin, she studied guitar with internationally recognized guitarists and performers like Celil Refik Kaya and Ra Arslanyan.
Amanda is currently an instructor at the New Jersey City University Community Music School, focusing on childhood music education. She was a finalist at Honor's Performance Series at Carnegie Hall in 2010, winner of Oklahoma Youth Orchestra's Concerto Competition in 2011, winner of the Ladies' Music Club Competition in 2015, and a finalist at the Round Top Festival Institute in 2015.
Amanda's online live-streaming course is designed for students who are beginners or have some previous guitar experience. Students can easily follow along and learn problem-solving skills related to the guitar and learning techniques needed to become proficient guitarists. Whether students are focusing on guitar as a career path or simply interested in it as a hobby, Amanda's class will provide them with the tools necessary to take their skills to a higher level.
Astra Liucija is a life-long artist and educator with nine years of experience teaching a range of students from toddlers to teens. Here training and degrees are in illustration and fashion illustration from FIT in New York City. Astra makes all kinds of art based on nature and loves to create from the imagination; some of her favorite things to draw are dragons and unicorns. With the belief that our reality informs our fantasy, she engages children's imaginations and helps them become more active and creative.
Astra's lessons include: drawing from observation, using pictures and models, and examples of fine art in history. In this course, you will learn the fundamentals and elements of art by observing and drawing what you see. Artists of all ages and abilities will improve their skills by training their eyes and hands to work together. Astra will teach you the techniques to employ details and color to make your art look its best. With an emphasis on practice and play, Astra will show you how to use the world's wonders as inspiration for your art!
Anne-Laure began practicing yoga ten years ago and fell in love with the practice. She traveled to Sydney to study and became a certified teacher in 2015. She continued her studies and received a yoga therapist certification specializing in mental and emotional health. Most recently, Anne-Laure completed a yoga teacher training program with an emphasis on teaching children.
Anne's mission is to support physical, mental, and emotional health for children of all ages. Yoga teaches self-awareness, self-reflection, and self-regulation skills. It can reduce anxiety and stress, promote a sense of calm, and enhance strength, coordination, and flexibility while encouraging body awareness and increased self-esteem. By practicing yoga with Anne, your children will establish healthy habits at an early age.
Melissa Mazza began practicing yoga at around the age of 14 after reading an article about it in a magazine. She completed her first Yoga Teacher Training certification in 2008 and completed her bachelor's degree in Theatre Arts, concentrating on Acting. Since then, she has obtained multiple Yoga Teacher Training certifications and taught yoga in gyms and dance studios for the last few years. With years of experience with children, Melissa has honed impressive teaching skills and intends to create exciting experiences for people of all ages.
There is an ever-growing body of research supporting the benefits of yoga practices for children of all ages. For the littlest yogis, yoga can help develop fine and gross motor skills. For older students, yoga has been conducive to learning to self-regulate emotions and increase self-esteem, concentration skills, and memory. In her yoga class, Ms. Melissa aims to teach you the basics of yoga in a fun and age-appropriate environment. Start practicing with Anne-Laure today and have some fun while learning to be aware of your mind and body!
Chelsea Weng is a certified kindergarten teacher in Taiwan. She received her master's degree in language education in the United States.
Chelsea has a passion for language teaching and loves working with her students. She believes that there's no such thing as a bad student whenever the learning process is engaging and entertaining. She is open-minded and can consistently adjust her curriculum to meet her students' needs in real-time.
Studying a foreign language is a valuable experience at any age. Learning Chinese will be an excellent opportunity for your children to gain this course of study's cognitive and linguistic benefits. Chinese is a tonal language with numerous characters that look like pictures, making it a great way to strengthen your child's visual and auditory perception. Your children will explore a whole new world with a unique culture in Chelsea's class. Children who take this class will gain confidence by acquiring a new language and enjoy a positive cross-cultural experience.